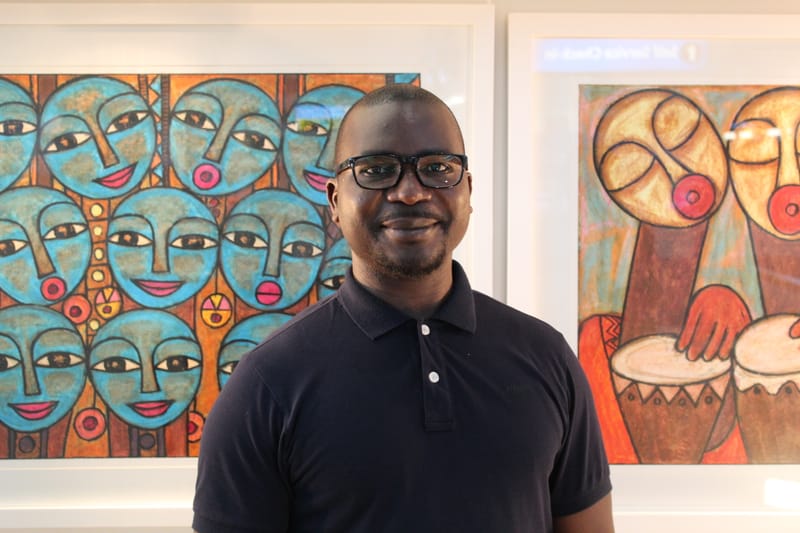 Born in Mozambique 1979
Ezequiel Mabote is a self-taught artist who grew up in an arts neighborhood in Maputo. He was influenced by the old masters of sculptures, paintings and batiks at the age of 10. He then took art lessons at Noroestel High School in Maputo.
In 1998, Ezequiel moved to South Africa to fulfill his dreams in art. He stayed in Durban KwaZulu Natal with his cousin brother, Isaac Sithole. Isaac introduced him to the Bat Centre where he networked with local artists.
In 1999, he attended a printmaking workshop at the Bat Centre with Samuel N Mbingilo from the John Muafangejo Art Centre in Namibia.
He held his first exhibition in 1999 at the Intensive Care Café at the Bat Centre and two years later attended printmaking workshops at the Caversham Press in the KwaZulu-Natal Midlands under well-known artists such as Malcolm Christian, Dr David Koloane, the late Gabi Nkosi, Kevin Sipp, Xolile Mtakatya and many more.
He facilitated art classes of woodcut printmaking at the BAT Centre. In 2004 Ezequiel attended mural courses in Bronzeville South Side, Chicago. In 2006 He attended live drawing classes at Chicago University.
Ezequiel now specializes in printmaking, woodcut colour reduction, oil pastels, paintings, sculptures, murals and bookbinding. He has worked in many artwork events or projects at the Bat Center, the Durban University of Technology, the Grosvenor Girls High and the Velobala Art Project. He also conducted a workshop with graphic design students at the Bronx Community College in New York in 2010.
He has also done commissions and murals for Malboro Cigarettes, Nando's Chicken in South Africa and in Dubai, Group Murals and illustrations for Barry Unsworth's book Sacred Hunger. He has done a logo for Sunshine Bakery in 2013 and artworks for KPMG in 2014.
PRESENCE AT KING SHAKA AIRPORT
From 2011 to Date, Ezequiel has an Art gallery shop at King Shaka international Airport Departures, (Check In Counters). And he is looking to francise Mabote Art. Ezequiel is now a full business man and an Entrepreneur who improves the lives of young and small upcoming artist.
AWARDS
2001 Ithunga Fine Art Award Winner, for collaboration with six artists in 2001 Calendar.
EDUCATION
* Noroeste Secondary School – Maputo
*Art lessons atNucleo de Art - Art Centre - Maputo
*Life Drawing - Chicago University
EXHIBITIONS
Ezequiel Mabote has worked closely with the Alliance Française, exhibiting on a regular basis in Durban, Johannesburg and Pretoria galleries. He is also a regular feature at the annual Art in the Park in Pietermaritzburg and Decorex johannesburg. Ezequiel will be exhibiting for the first time in his birth county Mozambique in 2018.
1999 Art in Memory Intensive Care Café, Bat Centre, Durban
1999 Values of African Art Democratic Gallery, Bat Centre, Durban
2000 Ithunga Group Exhibition Durban Art Gallery, Durban
2002 Exhibition Akainyah Gallery, Chicago
Exhibition Total Living Network, Chicago
African Caribbean Art Festival Chicago
Exhibition Bronx Community College, New York
Exhibition African Art Centre, Durban
2003 Summer in Africa Steele Life Gallery, Chicago
African Journey I Blue Caterpillar Gallery, Pietermaritzburg
African Journey II Menzi Mcunu Gallery, Bat Centre, Durban
2004 Summer Group Exhibition African Art Centre, Durban
2005 Solo Exhibition African Art Centre, Durban
Measure Exhibition Bronx Community College, New York
Solo Exhibition Steele Life Gallery, Bronzeville, Chicago
2006 African Caribbean Art Festival Chicago
2007 A4 Durban Group Exhibition Art Space, Berlin
Group Exhibition Artists Proof Studio, Johannesburg
2008 KZNSA Members Exhibition KZNSA Gallery, Durban
2009 African Caribbean Art Festival Chicago
Wildlands Auctions Sibaya Casino, Durban
2010 Beauty of Africa Hall of Fame Gallery, Bronx, New York
2011 Group Exhibition Artisan Gallery, Durban
2012, 2013, 2014, 2015 Art In The Park, Pietermaritzburg
2015 Hilton Art Festival Midlands, Pietermarizburg
2017 Group Exhibition African Art Centre
2017 Art Display Moyo Resturant, Ushaka Marine World
2017 Remembering Samora Machel Durban City Hall
2018 Reed Exhibitions Decorex Johannesburg
ARTIST'S CONTACT DETAILS:
Phone: +27 76 111 0843
Email: artsmabote@yahoo.com
Website: www.maboteart.com
Address: King Shaka Int. Airport
PO Box 57847
KSIA, Durban
Instagram: @Mabote_Art
Twitter: @Mabote_Art
Facebook: Mabote Art